| | |
| --- | --- |
| ! | This article is about the character Camille. For the actress with the same name, see Camille Razat. |
"Paris might feel like a big city, but it's really just a small town." ― Camille to Emily in A Kiss is Just a Kiss
Camille is a sweet French woman with a friendly nature. She takes Emily under her wing to show her that Paris isn't as big as it seems. Camille was the girlfriend of Gabriel before they broke up.
Biography
Camille grew up in Épernay, Champagne, France. She is the older sister to Timothée and Theo. Her family is relatively wealthy, her mother Louise having inherited a successful champagne company. Camille's parents have a château in Champagne called Le Domaine de Lalisse.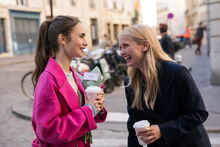 Camille is strolling through Paris when she sees an American girl struggling to buy decent looking flowers from a crass flower lady. Camille intervenes and speaks French to the woman to better convey what Emily wants, and the woman obliges. The girl, Emily Cooper, is grateful to Camille for her help. They strike up a conversation where they become fast friends, with Camille inviting her to the art gallery she works at to meet Randy Zimmer. Their friendship escalates with Camille serving as a beacon of kindness for Emily. She is stunned to learn that Camille is the girlfriend of Emily's downstairs neighbor, Gabriel, who she just kissed. Both Emily and Gabriel keep their kiss a secret from Camille, seeing as how Emily wasn't aware of their relationship and neither of them wants to hurt Camille.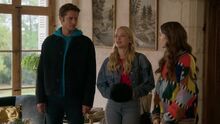 The trio has a few outings together and even double date with Emily's fling, Thomas, which Camille takes time to tease Emily over. Camille also befriends Emily's best friend in Paris, Mindy Chen. A few weeks later, Gabriel's boss agrees to sell him Les Deux Compères, but the down payment is out of Gabriel's price-range so he believes his dream will have to wait. He isn't interested in Camille's parents loaning him the money, which strains their relationship. A trip to Camille's family chateau rattles their relationship even more, as her mother Louise doesn't understand why Gabriel can't accept help. This drives a wedge between Camille and Gabriel, causing them to bicker in front of others.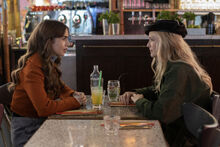 Upon returning to Paris, Gabriel tells Camille that he found a restaurant he can afford, but it's in Normandy. Despite the distance, he is taking the opportunity to pursue his dreams. This leads to a final fight between the couple as neither of them is willing to sacrifice for the sake of their relationship. The couple ultimately breaks up. She confides in Emily who is angered by Gabriel's choice to move away. A few days later, Gabriel receives an unexpected investor for Les Deux Compères, so he decides to stay in Paris after all. Camille reaches out to Emily asking if they can talk now that Gabriel is staying, unaware that Emily and Gabriel slept together the night before.
Personality
Camille is a naturally kind woman with a good heart and a strong moral compass. She strives to help people and is one of the nicest people Emily meets in France. Despite Emily being a stranger, Camille steps in to help her and exceeds the expectation by inviting her out that evening. She is very outgoing, warm, and fashionable. She worries about her loved ones and cares deeply for other people. She can view things rather one-sided, as she didn't understand that Gabriel didn't want to be indebted to her parents by accepting their financial support.
Relationships
Main article: Gabriel and Camille
Gabriel is Camille's ex-boyfriend. They were dating at the beginning of Season 1 and later broke up.
Main article: Emily and Camille
Emily and Camille first meet at a florist shop. Camille takes Emily under her wing to show her that Paris isn't as big as it seems. Their friendship was complicated on Emily's part due to her unresolved feelings for Camille's boyfriend, Gabriel, though Emily kept these feelings from Camille.
Trivia
Camille drives a red car and her license plate is "1154 SY 75".[2]
Appearances
Gallery
References
Community content is available under
CC-BY-SA
unless otherwise noted.